NCCU BA office: International Students- Oral Exam Notice!!!
Dear Applicants,
 
Thanks for your reply regarding to the Oral Examination that will take place on May 1th (Monday), 2017 at NCCU.
 
Please kindly note the following:
 
Please make sure to report to the BA Office or be on Skype ON TIME.
 
1. Please reply that you have received this notice before 5pm (Friday), 28 April 2017. (Local Taiwan Time)
2. Required Documentation: ARC, Passport or Any Other Official Identification (with Photo).
3. Oral Exam: Individual Schedule according to LOCAL Taipei Time. 
MBA Program
| | | | | | |
| --- | --- | --- | --- | --- | --- |
| NO | Chinese Name | English Name | Registration Time | Exam Time | Note |
| 1 | 阮清秀 | NGUYEN THANH TU | 08:25 | 08:30 |   |
| 2 | 朴保璘 | PARK PO LIN | 08:35 | 08:40 |   |
| 3 | 葉睦誠 | YAMEOGO, MOHAMED ABDOUL BASSYROU | 08:45 | 08:50 |   |


Undergraduate Program
| | | | | | |
| --- | --- | --- | --- | --- | --- |
| NO | Chinese Name | English Name | Registration Time | Exam Time | Note |
| 1 | 朱健鋒 | TJOE , VINCENT | 09:25 | 09:30 | Skype |
| 2 | 李嘉玉 | LEE , DEPINA | 09:35 | 09:40 | Skype |
| 3 | 鄭嫻仙 | TEDJAKUSMA , PATRICIA ROSITA | 09:45 | 09:50 | Skype |
| 4 | NA | PRIMUS , EDBERT | 09:55 | 10:00 | Skype |
| 5 | 張瑜秦 | JANG , YOU JIN | 10:05 | 10:10 | Skype |
| 6 | 莫蜜拉 | MURPHY RUIZ , PAMMELA ANDREA | 10:25 | 10:30 |   |
| 7 | 柯艾琳 | CUSTODIO RIVAS , ISABELLA | 10:35 | 10:40 |   |
| 8 | 卡洛斯 | DE LA ROSA MARTINEZ , CARLOS ALBERTO | 10:45 | 10:50 |   |
| 9 | 潘吉爾 | POSAS SUAZO , GILMER ROBERTO | 10:55 | 11:00 |   |
| 10 | 謝思怡 | LUVENA , NADIA | 11:05 | 11:10 |   |
| 11 | 何安娜 | HERNANDEZ GARCIA , ANA DANIELA | 11:15 | 11:20 |   |
| 12 | 司立偉 | SANCHEZ, CHRISTIAN , DANTE | 11:25 | 11:30 |   |
| 13 | 張亦如 | RAMIREZ CHAN , LIZETH DEL CARMEN | 11:35 | 11:40 |   |
| 14 | 陳艾莉 | GONZALEZ MORALES , EMILIA | 11:45 | 11:50 |   |



Doctoral Program
NONE
4. Location: Office #716, Department of Business Administration, Commerce Building. 
5. Campus Map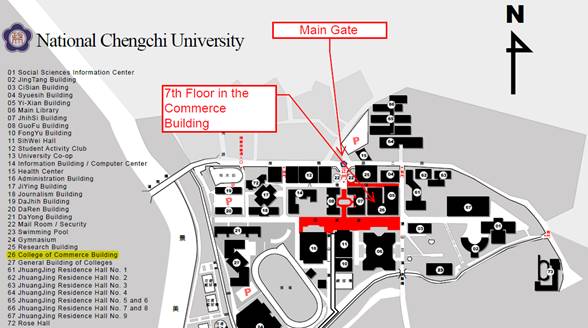 6. Contact: Ms Chelsey Lee, TEL: +886-2-2939-3091 Ext#87071 
7. NCCU Address: No. 64, Sec. 2, ZhiNan Rd., WenShan District, Taipei City 11605, Taiwan (R.O.C) 

For more directions on how to get to NCCU, please visit: http://oic.nccu.edu.tw/ezfiles/0/1000/img/4/2016NCCUMAPE.swf
 
Thanks for your time and cooperation.
 
Shall you have any questions, please do not hesitate to let us know.
 
 
Contact person
Chelsey Lee
baint@nccu.edu.tw
02-2939-3091#87071